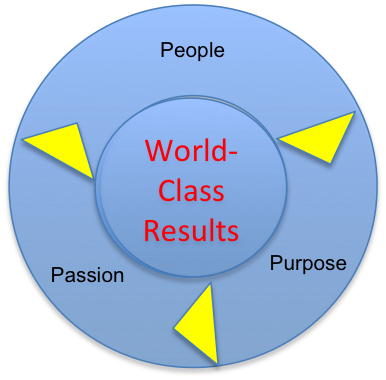 Please visit our "Philosophy" and "TIPS" pages for a more detailed description of "how to implement our strategies"
At P

3

 

Leadership, we believe leadership is both a privilege and a responsibility. P

3

 

Leadership, LLC was created to address the demand for leadership development in organizations, both large and small. The 3 P's are People, Purpose, and Passion.
PEOPLE - the most important part of any organization. Nothing can be accomplished without People.
PURPOSE - every organization has a reason for being (Mission). Connecting the employee's personal mission statement (purpose) with the organization's will create unparalleled momentum.
PASSION – is created when employees' hearts are connected with the organization.
Our approach is based on developing Engaged Employees (i.e., a Great Culture).  Some of the best companies in the world realize how important it is to have a workforce that really cares.  Engaged employees are excited about coming to work every day and as a result, they give better customer service, produce a better product, work to make sure the organization does well financially and produce an environment that creates growth.
The question you must ask your self is: would you rather have 500 employees coming to work every day with that attitude, or have 500 employees coming to work every day who really don't care about anything but a paycheck and benefits?
Through our rigorous, focused approach you can achieve world-class results. P3 leadership practices have been used in organizations that have received the prestigious Baldrige National Quality Award, one of which is the only Healthcare organization to have received the Award twice.
P3 Leadership employs time and industry proven methods to engage the workforce, thereby creating an environment capable of producing stellar patient satisfaction, quality, financial and growth results.
Components of the P3 Leadership approach include Culture Transformation (Servant Culture), Leadership Development, Servant Leadership Implementation, Employee Engagement and Organization Sustainability. As a result of our innovative scalable approach, these components can be implemented individually or in total.
Servant Culture:
A Servant Leader, employee-first environment designed to ensure that employees' highest priority needs are being met, with character that inspires confidence.  Which leads to engaged, fired/up, motivated employees who look forward to coming to work every day and giving their all.  Our 8-Step Process creates this kind of culture.  Take a look at the "Tips" section of our website to see some of the highlights of our approach.  Press here for "Tips"
Servant Leadership:
Development of the skills necessary to create and sustain an environment that engenders the trust and commitment of your employees based on the following characteristics:
Humility
Patience
Kindness
Respectfulness
Selflessness
Forgiveness
Honesty
Commitment
Results oriented/"no excuses"
Ego directed toward team accomplishments
Employee Engagement:
Hardwired practices designed to create engaged employees:
Hiring the "right" people
Onboarding
Inclusion in Strategic Planning Process
New Employee Orientation
EXCEL process
Leadership Development
Open Communication
Stars on Line - Reward and Recognition
Ideas for Excellence – Employee empowerment and Innovation
Reward and Recognition
Organization Sustainability:
   Focus - relentless, unwavering commitment
   Discipline - self control; doing things we may not feel like doing; staying focused
  Execution - effective implementation of a system or process
For more information, contact John Heer, CEO/Founder of P3 Leadership.